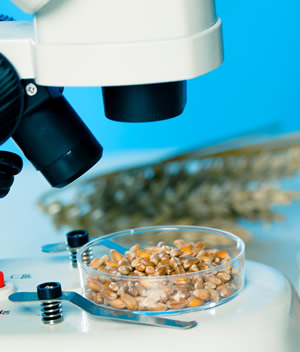 Analytical Scope
We offer sensory, physicochemical, chemical, microbiological, immunological, molecular biological and labelling tests as part of our comprehensive service. In the following section you will find an excerpt from our analytical scope:
Labelling:
verification of labelling according to European and German law.
Chemical analysis:
Nutritional values Big 7/Big 8 (dry matter, ash, fat, fatty acid analysis, sugar, crude protein, fibre, salt), elements (sodium, minerals, trace elements, heavy metals, inorganic arsenic, etc.), vitamins, caffeine, theobromine, cholesterol, 16-O-methylcafestol, quality parameters for meat and meat products.
Microbiological tests:
Microbiological monitoring, spoilage microorganisms, pathogenic germs (S2 laboratory), storage/stability tests.
Molecular biological and immunological tests:
Allergens such as gluten, nuts, soy, mustard, egg, milk, etc.
Additives:
colourants (also Sudan dyes), preservatives, sweeteners
Residues and contaminants:
Pesticides via QuEChERS screening and single residue methods such as ethephon, glyphosate, ethylene oxide, chlormequat/mepiquat or nicotine.
Mycotoxins such as aflatoxins, Alternaria toxins, ochratoxin A, patulin, fusarium toxins (deoxynivalenol, zearalenone, nivalenol, T-2 / HT-2 toxin, fumonisins)
Process and environmental contaminants such as acrylamide, MOSH/MOAH, 3-MCPD, PAH, BTEXS, plasticisers, pyrrolizidine alkaloids, tropane alkaloids, solanum alkaloids
Drinking water
sampling by certified staff, analysis by an accredited partner laboratory
Special analysis
such as isotope/NMR/RFA/IR analysis, e.g. foreign body analysis, food fraud
Crisis management
Comprehensive support by our team in the event of a crisis, incl. express analyses.
If you have any further questions, don´t hesitate to contact us. Our experts look forward to assisting you.